News: October & November 2014: Where to see work by BTG members
Claire Buckley is taking part in the Colour Block exhibition at the Arts Forum in St Leonard's on Sea
The BTG has a gallery at the Knitting and Stitching Show in Harrogate, curated by member Hillu Liebelt. See the Woven Art '14 online catalogue. BTG Scotland's touring exhibition Metamorphosis opens in Hawick on the Scottish Borders on 5 October and is on until the 14 December.
BTG members also take part in many group exhibitions with other artists as well as solo exhibitions. Listed below are details for Katie Russell, Ixchel Suárez, Louise Martin, Anna Kocherovsky, Gillian Bull, Tim Oelman, Liz Rance and Claire Buckley.
BTG member Katie Russell's Tapestry Weaving exhibition - Russian Arctic Convoys, 26 November to 6 December at the Castle Douglas Art Gallery, Dumfries and Galloway. The exhibition is a collection of tapestry weavings on the Russian Arctic Convoys, inspired by accounts from veterans who travelled on these convoys. The gallery is open 10am - 4pm each day. You can see more on Katie's web site: http://katierussellweave.com/
BTG member Ixchel Suárez has two tapestries showing in the World of Threads Festival in Ontario, Canada, opening Saturday 1 November until 30 November.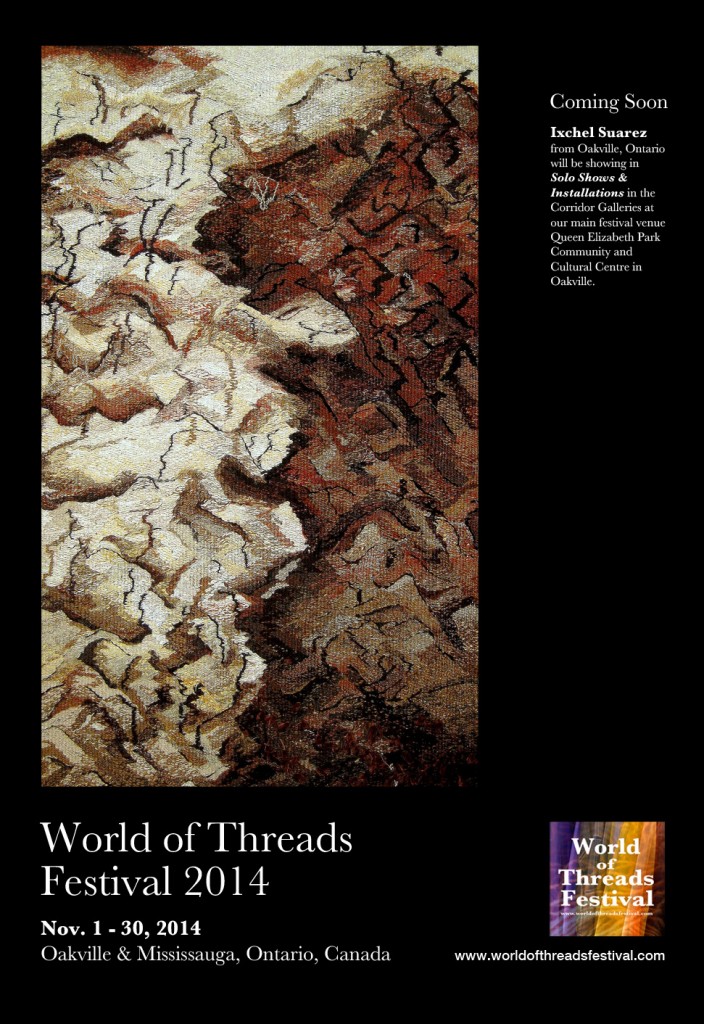 For more information, see:
http://www.worldofthreadsfestival.com/exhibitions_menu.html
http://www.facebook.com/OakvilleArtsStudio
http://oakvilleweaversandspinners.blogspot.com/
BTG member Louise Martin has an exhibition in Laxey, Isle of Man from 31st October to 22nd November 2014.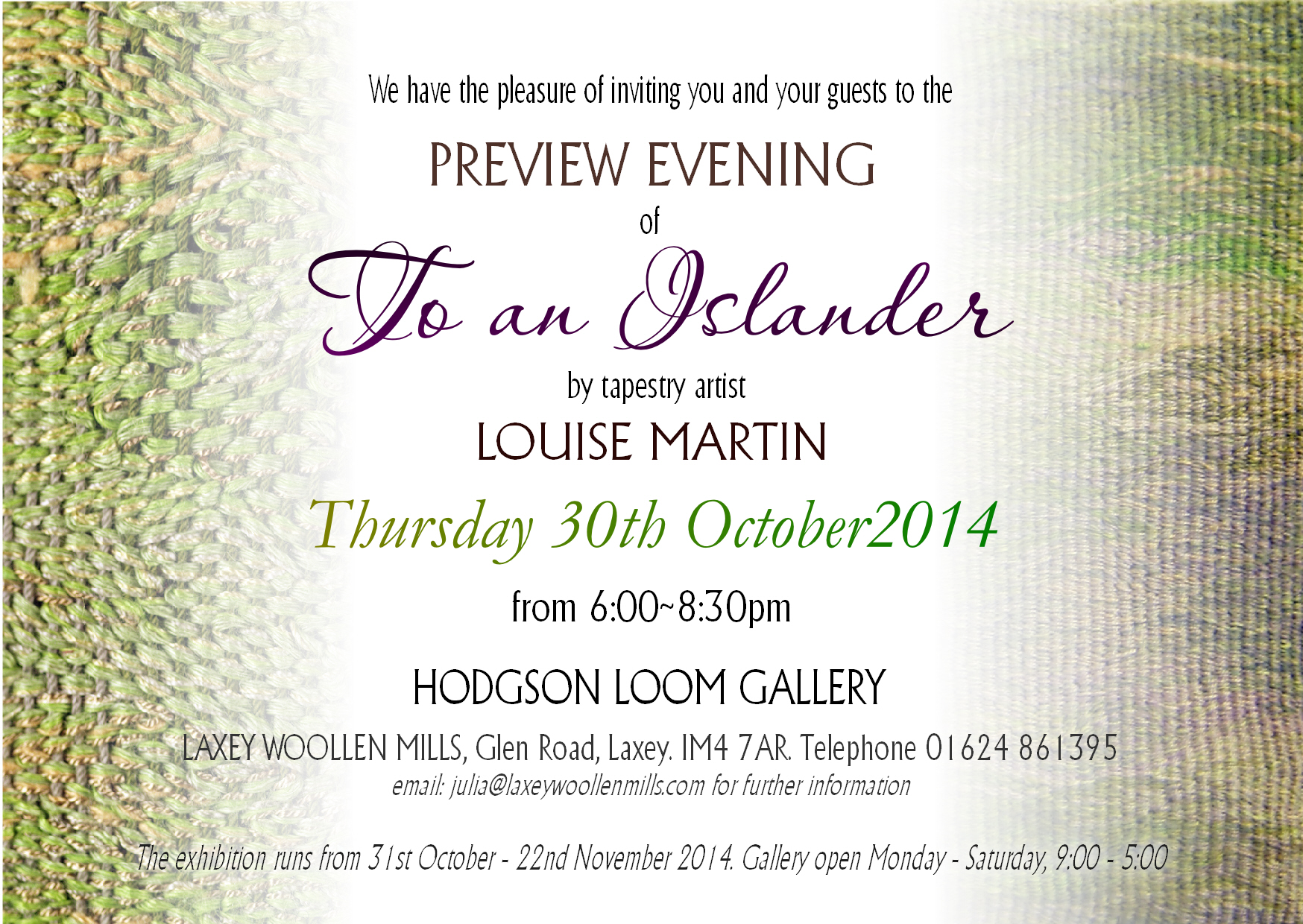 BTG member Anna Kocherovsky will be showing three woven tapestries in the The World of Threads Festival which will take place in Oakville & Mississauga, Ontario, Canada from November 1 - November 30. www.worldofthreadsfestival.com
All the images can be seen on Anna's website www.tapestrystudio.com annak@tapestrystudio.com
Gillian Bull's two tapestries commemorating Alan Turing are permanently housed in the new Turing College at University of Kent at Canterbury, when the buildings comprising the College are completed early in 2015. www.bullthreads.co.uk
BTG member, Tim Oelman's exhibition, 52 Days to Timbuktu is on from 6 October until 14 December in Cambridge UK at the Alison Richards Museum. This exhibition is art Inspired by Mali and Morocco: tapestry and mud cloth (bogolan). Open daily 9-5.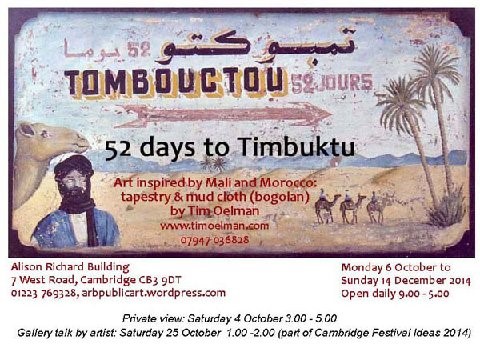 BTG member Liz Rance is taking part in a collaborative exhibition of Painting and Tapestry Weaving, Sticks & Stones with Di Kinnings, 3-9 November 2014, Lincoln at Gallery @ St Martins (behind Cheese Society) 37b Hungate, St Martins Square, Lincoln. Open Daily 10-4.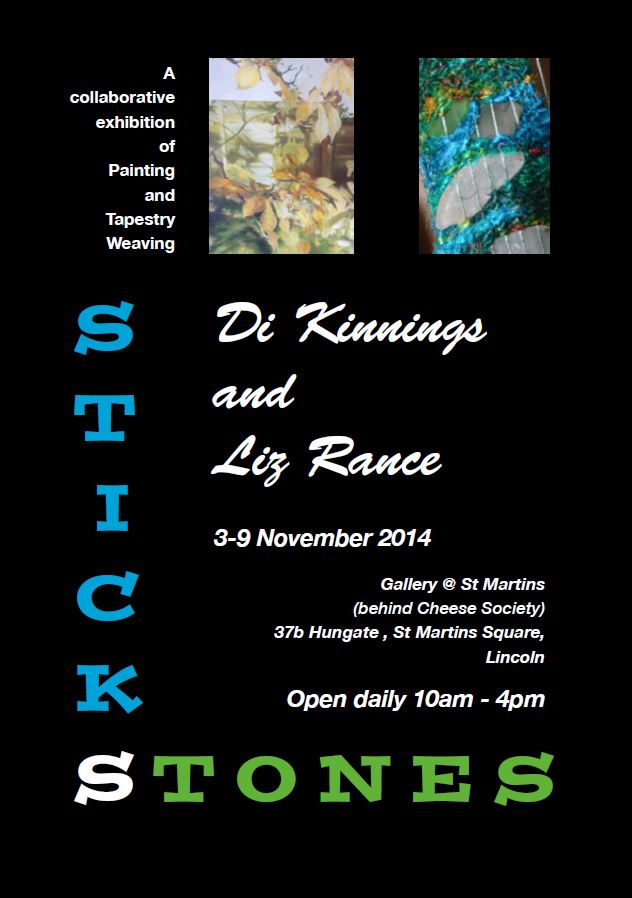 BTG member Claire Buckley is taking part in the Colour Block exhibition at the Arts Forum in St Leonard's on Sea, UK, exploring the use of colour. It is open until the 21st October.A detail of one of Claire's weavings is at the top of the flyer.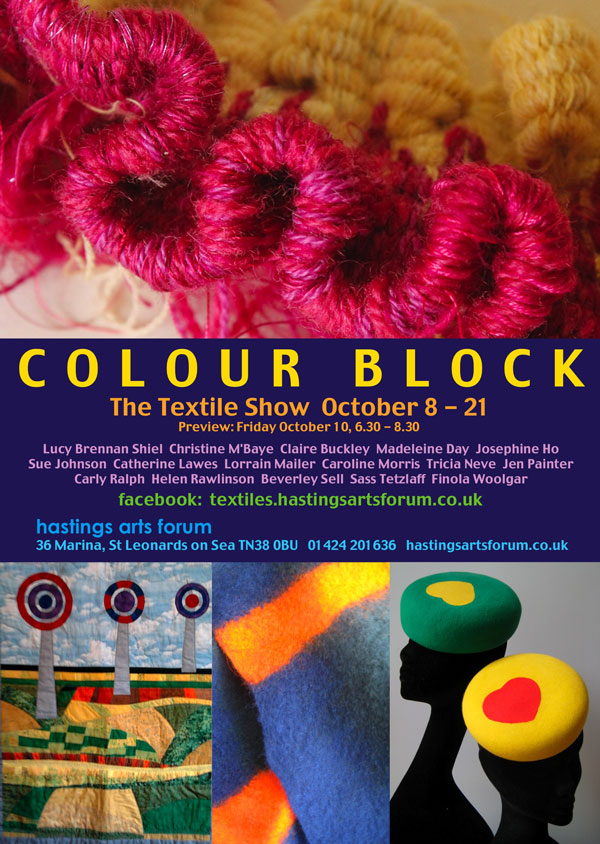 Colour Block is an exiting, eclectic exhibition that showcases 16 local East Sussex artists whose work is inspired by textile forms. This follows on from previous successful textiles exhibitions at Hastings Arts Forum, situated on St. Leonards seafront underneath the iconic Marine Court. The exhibition explores how artists use and interpret colour and will include felt hangings, batik, bead and textiles jewellery, mixed media, millinery, photography, hand and machine stitch and 3D sellotape hangings.Visitors will also have the opportunity to purchase original art at affordable prices. Claire Buckley