News: September/October/November: Where to see work by BTG Members
Hillu Liebelt's exhibition, A FINE LINE, at the Crafts Study Centre
BTG member Hillu Liebelt has a solo exhibition during September (see below). She has also curated the BTG exhibition gallery at the Knitting and Stitching Shows. See Woven Art '14. BTG Scotland's touring exhibition Metamorphosis opens in Hawick on the Scottish Borders on 5 October and is on until the 14 December.
BTG members also take part in many group exhibitions with other artists as well as solo exhibitions.
BTG member Hillu Liebelt's exhibition, A FINE LINE, is on at the Crafts Study Centre, Falkner Road Farnham, Surrey, GU9 7DS from Saturday 29 July to the 27 September.
BTG member Anna Kocherovsky will be showing tapestries in two upcoming shows: The Tapestries "Summer in Cranbrook" and" Bird, Fish.." are part of the 2014 SCARAB CLUB FIBER EXHIBITION, at the Scarab Club, Detroit, MI, USA. The show will run from July 30 - September 6. Three of Anna's tapestries will also be on show in The World of Threads Festival which will take place in Oakville & Mississauga, Ontario, Canada from November 1 - November 30.
www.worldofthreadsfestival.com
All the images can be seen on Anna's website www.tapestrystudio.com annak@tapestrystudio.com
Tapestries by BTG members Dianne Miles and Gillian Bull are on display in the foyer of West Dean College, as part of an exhibition by the Equinox Group - seven people who were early students on the Foundation Diploma in Art and Design course at West Dean. If on a course or visiting West Dean, the exhibition runs from 16 August to 14 September 2014. Unfortunately West Dean House, as distinct from their Gardens, is not normally open to the public (although the House is open on 6/7 September for a fee). Gillian Bull's two tapestries commemorating Alan Turing, featured in Tapestry Weaver Issue 8 November 2012, will be permanently housed in the new Turing College at University of Kent at Canterbury, when the buildings comprising the College are completed early in 2015. www.bullthreads.co.uk
BTG member, Tim Oelman's exhibition, 52 Days to Timbuktu is on from 6 October until 14 December in Cambridge UK at the Alison Richards Museum. This exhibition is art Inspired by Mali and Morocco: tapestry and mud cloth (bogolan). Open daily 9-5.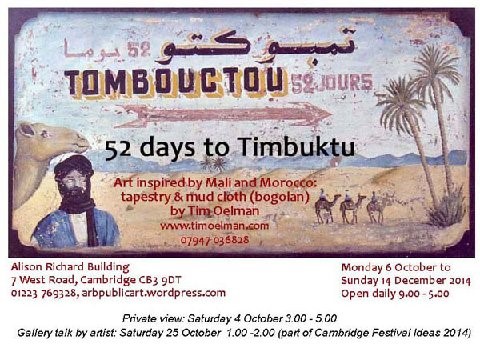 BTG member LouLou Morris's exhibition Not Only But Also - Tapestries and Textile Art influenced by war poetry, LouLou Morris, September 23 - 28 10-4:30, Oxmarket Centre of Arts (off East Street), Chichester, West Sussex. P019 1YH For preview information, see the flyer: PoppyFlyer.
BTG member Fiona Hutchison is holding an open studio weekend at Tapestry Studio (114] Patriothall Studios, 48 Hamilton Place, Stockbridge, Edinburgh, EH3 5AY. 4th and 5th October. 12 - 5pm
BTG member Liz Rance is taking part in a collaborative exhibition of Painting and Tapestry Weaving, Sticks & Stones with Di Kinnings, 3-9 November 2014, Lincoln at Gallery @ St Martins (behind Cheese Society) 37b Hungate, St Martins Square, Lincoln. Open Daily 10-4.