News: SOUND and WEAVE - is now open!
Margaret Crowther : Finale Mahler Symphony No 9
The Sound and Weave exhibition opened at Gracefield Art Centre, Dumfries last Saturday, 11th August. It was opened with a brilliant introduction by Sue Grierson, a visual artist who uses video, images, sound, text and installation in the creation of her own artwork.
Read Sue Grierson's address at: Sound & Weave Opening address
When you visit the exhibition it immediately strikes you that, as the Gallery is an old house full of rooms, each room contains a well thought out and carefully curated mix of the artworks.
The diversity and creativity of the subject matter is amazing and the weaving excellent, so do go and see it!
Remember, if you live in or are travelling to Scotland, it is in Dumfries until 29th September. Alternative venues are Twickenham or Swansea.
Christine Sawyer : Vox Humana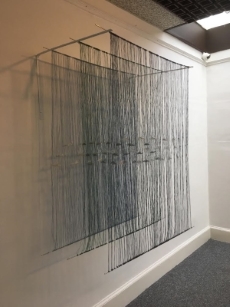 Ros Bryant : Soundings
For details of all three venues see: SOUND and WEAVE - Touring Venues