News: WEATHER whether? 18-27 April, Angmering Sussex
The South East British Tapestry Group is returning to the Mill House Gallery, Angmering for an exhibition of new contemporary woven tapestries. This year the theme of the exhibits is WEATHER whether? Each artist has interpreted this timely play on words in the same media - woven tapestry - but taking their own unique perspective on the theme. The result is a beautifully diverse and wide range of often, playful interpretations.
Opening times:
April 18-27th 2014
Mill House Gallery, Ecclesden Lane, Angmering, Sussex, BN16 4DQ
10.30pm to 4.30pm daily
Standing on the side of Highdown Hill The Mill House Gallery proved a magnificent venue for the highly successful first exhibition of this group in 2012 with more than 300 visitors to the exhibition.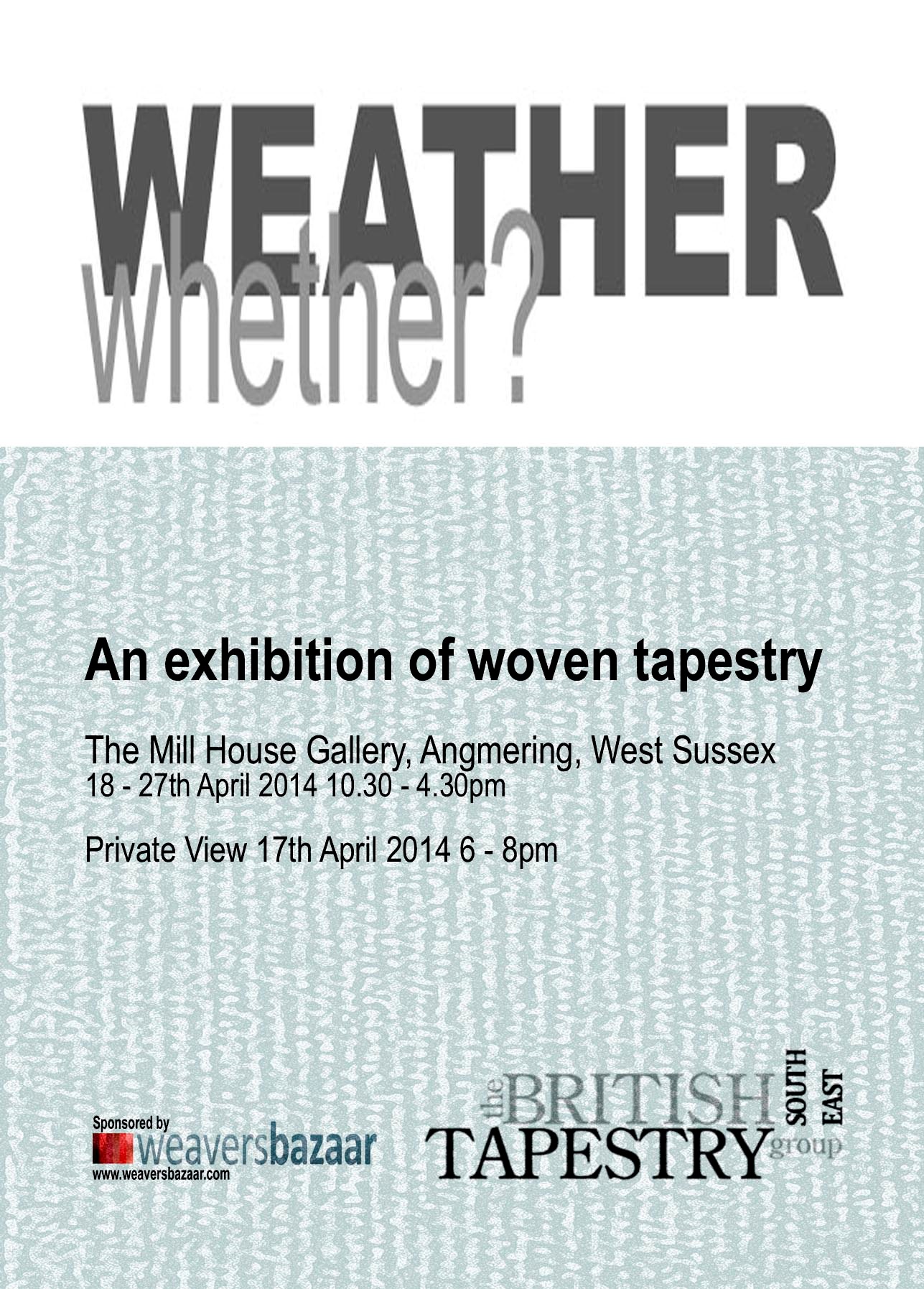 Please note that due to the unusual nature of the Gallery there is no access for wheelchairs and several floors of exhibits will be accessible by stairs only.
Facilities at the Mill House Gallery for the duration of the exhibition include
A shop selling weaving supplies provided by weaversbazaar - sponsors of the event
Other textile related stalls
Refreshments
Demonstrations
Opportunities to meet and talk to the artists Most exhibits will be available for purchase.
For press invitations to the Private View or other enquiries please contact Lin Squires on 0780 160 7286 or by email: lin@weaversbazaar.com
Download a Weather whether? Flyer in PDF format
About the Mill House Gallery: Owned by Margaret and her husband Ranjit the mill was built in the 1820's and was a working mill until the early 1870's when it lost its cap and sweeps in a storm. The mill was in bad state when Margaret and Ranjit moved into The Mill House in 2002, and they began a renovation by waterproofing the outside, replacing the cap modelled on the only photograph available of the original working mill, and finally restoring the inside. The exhibition space simply designed itself after the renovation! With stairs that hug the walls the mill has five floors, each floor getting progressively smaller as you ascend the tower. The top floor is very small but is a beautiful space with a high domed ceiling. Margaret says "I was delighted when the South east British tapestry group came to see the mill and were excited by the quirkiness of the space". It will be fun to welcome people to enjoy the weavings and the space".