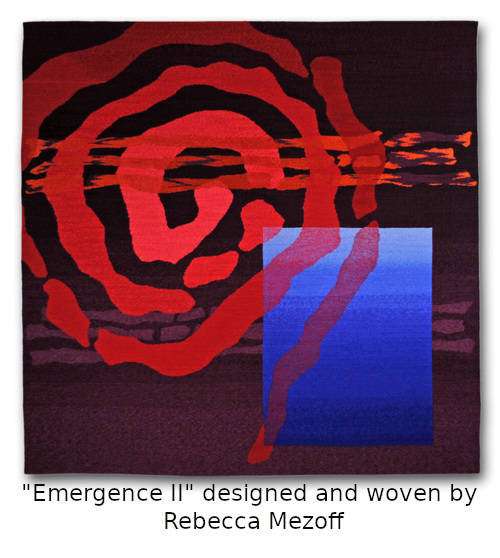 Tapestry weaving is a long-practiced art form which is often thought of in terms of mural-sized works made for castles and kings in medieval times. Today the tradition of workshops continues in a few places in the world where groups of weavers and artists are working together to create stunning examples of modern tapestry. Ateliers such as Dovecot Studios, The Australian Tapestry Workshop, and West Dean Tapestry Studio continue to produce tapestries in this way. At its most basic, tapestry is simply a word that describes a type of fiber interlacement. It is often defined as a discontinuous weft-faced weaving technique that creates some sort of image. But as practitioners and appreciators of this art form, we are likely to attach all sorts of expectations to the word.
Over the years I have studied, practiced, and taught this art form, I have at times felt that there are deep opinions about what tapestry should be in our community. As someone who did not get a university degree in fibers but learned the art largely through an apprenticeship with a master weaver, I find that my knowledge is not given the same weight as someone who received an MFA from any university or even an online or correspondence program. The apprenticeship model is not generally seen, at least in the USA, as a "valid" path to education by some practitioners, most of whom do have that MFA. It is human nature to look for validation and certificates and completed courses of study fill that wish even though they don't guarantee success to the receiver. And people who receive their training in any field in other ways may not have their skills recognized. There may be further prejudices among tapestry weavers about ways of practicing and styles of art creation among fiber art that is loosely classified as "tapestry".
I just published a tapestry techniques book (The Art of Tapestry Weaving) that contains all the ways I teach tapestry to beginners. There are weaving traditions all over the world that use these techniques and some people who are European or particularly French-trained may find issue with some of the things in my book. I learned tapestry weaving from a master in New Mexico, USA who was also trained by people who were influenced by a variety of traditions including Rio Grande and Navajo. My book is somewhat eclectic and isn't meant to follow strictly any tapestry tradition except the one I've created for myself. I have attempted to bring in other traditions as I can, but it remains an incomplete summary of tapestry weaving. It is, however, a good starting place for beginners.
I realize given the above that the question posed below seems a little personal to me, but there are other teachers out there teaching online and writing, so I hope this isn't seen as a personal issue. I genuinely want to know how tapestry weavers around the world think about the wide variety of practice in an art form labeled "tapestry." Is there a perception among tapestry weavers that tapestry is somehow sacred or only for people who study for many years to master it? Are there certain ways it should be learned and if so, do more casual approaches like my online course and techniques book undermine the production of tapestry in the way the Dovecot, The Manufacture des Gobelins, and the Australian Tapestry Workshop teach and produce tapestries?
Does easier access to knowledge about this art form, which is in part intended to support the 'hobbyist', somehow undermine the "seriousness" or value we put on the art form of tapestry? Does it somehow undervalue the work of artists making a living weaving tapestry? The question seems ludicrous to me as I type it, but I have felt in the past that there is some sort of disdain for the hobbyist tapestry weaver. This doesn't seem to be the case for people weaving multi-shaft weaves especially for functional fabrics. Tapestry has a fairly narrow definition and perhaps the insistence on using that definition for shows and when we talk about what tapestry IS, is part of what makes it feel like there is a pedestal some weavers are supposed to ascend through prescribed and rigorous means.
At the end of the day, are we somehow losing tapestry as a fine art form if we expand our definition of what it is? Or can we just embrace all artwork using fiber as fiber art and leave it at that? What is the value of so closely defining our work versus throwing open the doors to creativity and saying that anything goes?