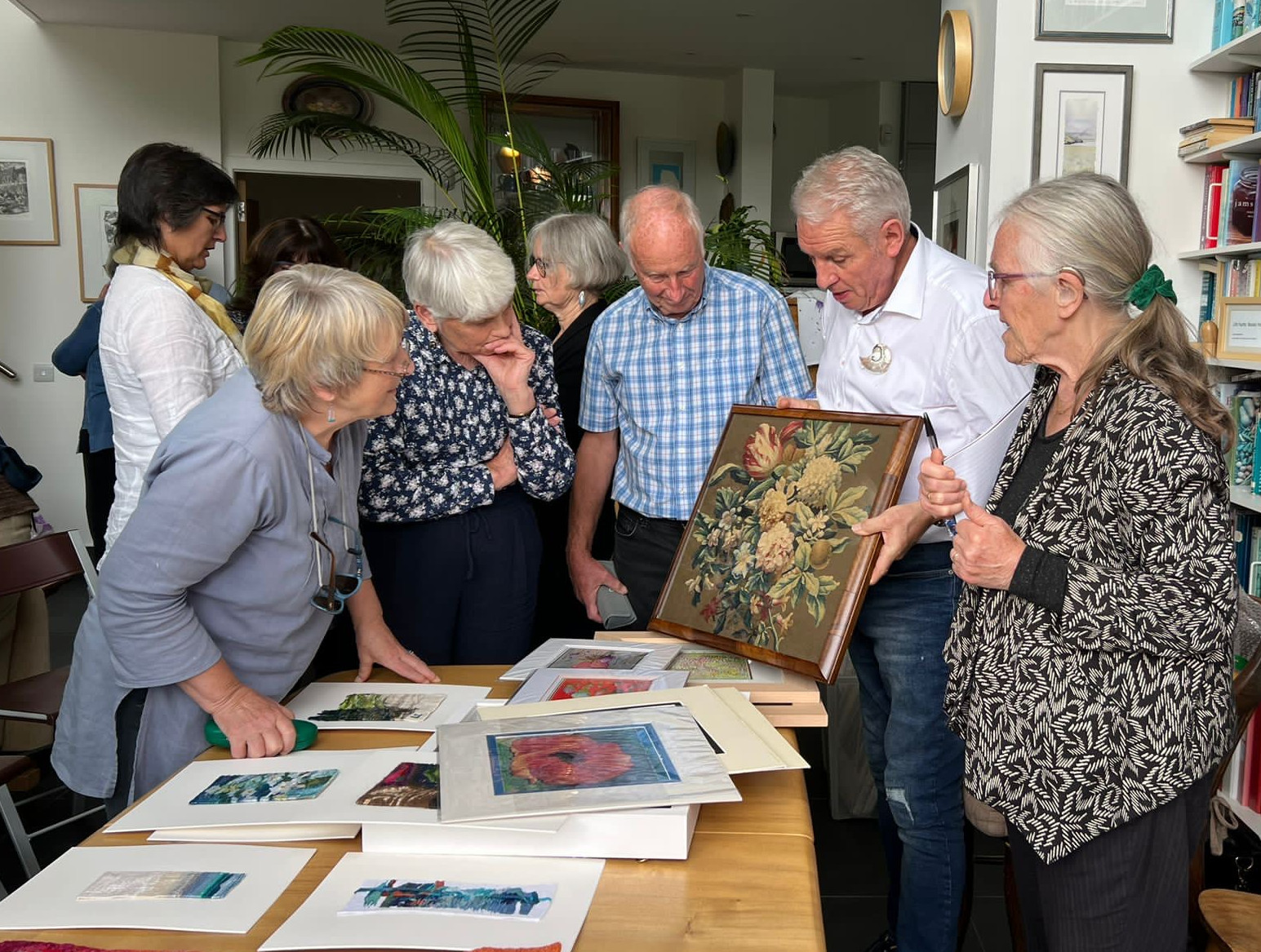 In May 2021 Anna Wetherall wrote this blog post posing the question of whether there was an ongoing role for online tapestry weaving networks. There were limited responses to this - in fact only two, both of which were personal perspectives with one claiming great personal benefits from participating in Anna and Irene Evison's Nearly Wild Weaving online activities and the other suggesting more time was needed before they were ready to go down the online network route.
In the past few months, I have been involved in helping to establish the BTG Eastern Regional Group. As coordinator of the group I also take part in the Regional Coordinators online meetings and some striking yet similar issues experienced by all the Regional Groups have emerged.
Meeting face-to-face presents real challenges from a geographical perspective - each of the Regional Groups covers large areas with many prospective members faced with hours of challenging travel to reach the location of meetings. All the groups use Zoom for virtual meetings in between the face-to-face ones, as a means of maintaining cohesiveness. However, whether face-to-face or on Zoom, no meeting encompasses the entire membership of a Regional Group with each one having a different constituency making it difficult to establish anything other than cursory relationships.
Another issue is around the focus of the Regional Groups - for some members the priority is in seeking opportunities to exhibit their work and so all their energy is put into locating venues and planning the events. For others, the opportunity to get together with other tapestry weavers and explore ideas, share skills, show work and gain encouragement is the prime motivation and they perhaps actively dislike the pressure of mounting an exhibition of work. These differing agendas can cause tensions between members which can also inhibit the development of the group as a whole.
Finally, there is the dichotomy of the very personal and insular nature of tapestry weaving activity versus the need to share what one is doing when engaging with a group.
The Waterline Project seems to have successfully overcome these issues: firstly, the focus of the project, front and centre, was the creation of hand-woven tapestries - it was expected to be an active, participative group with a planned output; the membership numbers were kept low and all the meetings were virtual with a commitment from those taking part to ensure they joined in; whilst the project was based on a common theme each weaver developed their own personal perspective on it and worked according to their own ideas; the planning of the exhibition aspect seems to have been undertaken thoroughly but not at the expense of time spent on reviewing and giving feedback on the weaving process.
So is the Waterline Project a model for how tapestry weavers might meet and successfully collaborate? Working virtually, collaborating at a distance for those unable to meet physically? Does it provide an insight into the ways in which the solitary, creative process of tapestry weaving might be enhanced through the sharing of ideas in either face-to-face or virtual meetings? Do post your ideas as responses to this blog - it would be good to hear what you think.